16mm
Live Music
Variable duration
2014

A night walk in four movements.
Passeio Noturno ('night walk') is about, among other things, a stroll of a dog that almost never went out of home. And the rides of its images, first captured in digital media, then printed, migrating as frame sequences to hundreds of sheets of paper, and from there transmuted into 16 mm film frames.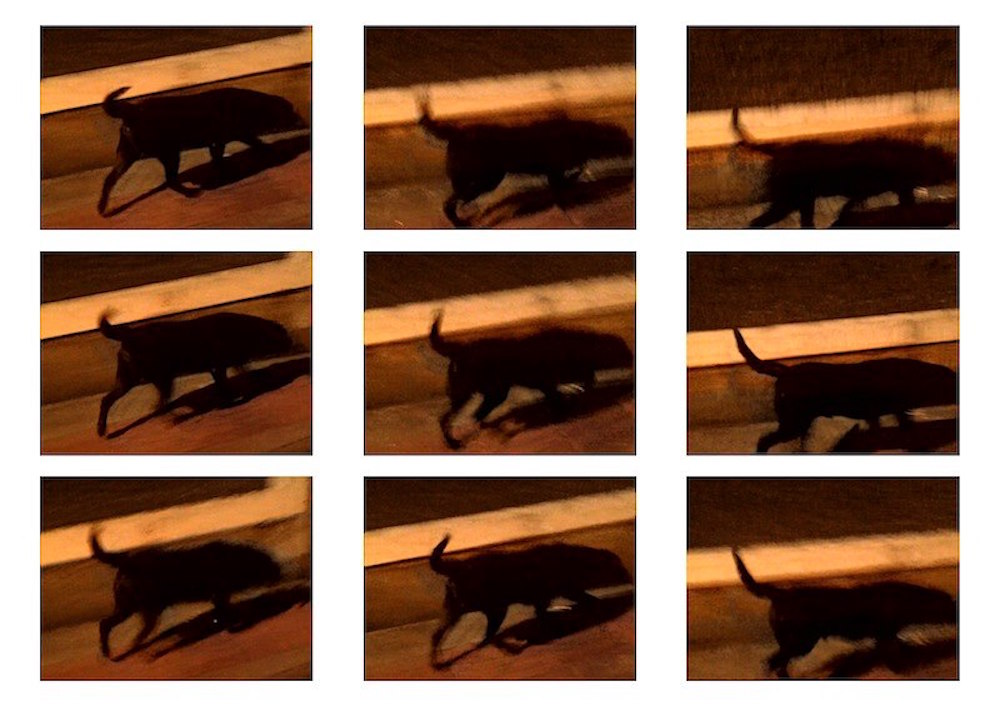 Since its debut in 2014, as a silent short film, Passeio Noturno has been presented with guest musicians composing/improvising a different live soundtrack for each occasion. In 2020, for the finissage of the exhibition "To Ensure the Continuity of the Flow of Life" at The Film Gallery in Paris, where "Passeio Noturno" was also shown in book form (the entirety of its frames in 4 volumes), we decided to present an evolution of the work.
For the first time, Distruktur coordinated the soundtrack, Melissa projecting and singing a long poem in Portuguese from Gustavo and poetic-musical appropriations in various languages. Gustavo on the electric guitar and special guests on synthesizers, percussion, and tape players.
In the expanded version we see tests of filming and copying, and twice the 6-minute film, with color variations, i.e. the process of working up to the best possible copy.
.
2014
Wilde Nacht de Wilden Films | ausland
Berlin
GERMANY
2015
filmesperformance | N.K.
Berlin
GERMANY
2018
Fio Vermelho Na Boca | Boca
Rio de Janeiro
BRAZIL
2018
Ed. 18 – Fio Vermelho | Leviatã
São Paulo
BRAZIL
2018
Cinecão Apresenta Distruktur | Maumau
Recife
BRAZIL
2018
Distruktur Em Maricá | Cinema Público Municipal Henfil
Maricá
BRAZIL
2020
Finissage: To ensure the continuity of the flow of life | The Film Gallery
Paris
FRANCE