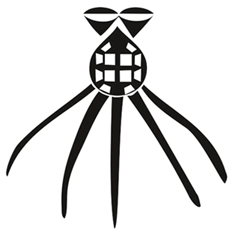 MELISSA DULLIUS (Porto Alegre, 1981) and GUSTAVO JAHN (Florianópolis, 1980) form DISTRUKTUR.
Distruktur's work moves across the borders between art and cinema, experimental and narrative, photography and moving image. Displacement and transposition happen as strategies to produce transformations, giving form to unstable narratives. Combining fiction and personal archive, symbols from different times and places are found and fantastically rearranged.
They started making films in 1999, first on Super 8 and later on 16mm. After co-founding the artist-run film lab LaborBerlin, they started incorporating experimental practices in their creative process.
Besides directing and producing they are also active as actors, musicians and lab technicians.
Distruktur's work takes shape as films, installations, film performances, photography, text and graphic.
*
Movendo-se através das fronteiras entre arte e cinema, experimental e narrativo, fotografia e imagem em movimento, Melissa Dullius & Gustavo Jahn exploram diferentes níveis da experiência sensorial e intelectual. Desestabilizam as noções do real e do imaginário ao mesmo tempo em que fundem as camadas de passado, presente e futuro. Deslocamento e transposição acontecem aqui como estratégias para produzir transformações, e as narrativas instáveis a que dão vazão sugerem que há muitas outras maneiras de comunicação além das normalmente conhecidas.
Combinando ficção com arquivo pessoal, reorganizam fantasticamente símbolos de diversas eras e lugares, denotando as veias profundas que unem os indivíduos e as culturas que os formam.
Começaram a fazer filmes em Porto Alegre no ano 2000, primeiro em Super 8 e depois em 16mm. Depois de mudarem-se para Berlim em 2006 e juntaram-se ao grupo fundador do coletivo LaborBerlin e.V passaram a incorporar práticas experimentais de filmagem e revelação analógicas ao seu processo criativo.
Além de conceber e produzir imagens em movimentos também trabalham como atores, músicos e técnicos de laboratório de cinema, realizando grande parte da pós-produção dos seus filmes.
Seus trabalhos tomam forma como filmes, instalações, filmesperformance, fotografias, textos e materiais gráficos.
Selected Filmography / Filmografia selecionada
ORÁCULO, 61 min, 2021
LEVANTADO DO CHÃO, 22 min, 2020
EL MERAYA, 19 min, 2018
MUITO ROMÂNTICO, 72 min, 2016
MÁQUINA DO TEMPO, 5 min, 2014
IN THE TRAVELER'S HEART, 20 min, 2013
DON'T LOOK BACK / LABIRINTO, 6 min, 2012
CAT EFFEKT, 40 min, 2011
TRIANGULUM, 22 min, 2008
ÉTERNAU, 21 min, 2006
Festivals, Exhibitions, Projects / Festivais, Exposições, Projetos
2021 24ª MOSTRA DE CINEMA DE TIRADENTES | Mostra Aurora / Panorama | TIRADENTES, BRAZIL
2020 SOIRÉE DE PROJECTIONS | L'argent / Polygone Étoilé | MARSEILLE, FRANCE
2020 PROGRAMME DE FILMS EN 16MM | Braquage | PARIS, FRANCE
2020 TO ENSURE THE CONTINUITY OF THE FLOW OF LIFE | The Film Gallery | PARIS, FRANCE
2020 SEMANA SEMANA SESSÃO 6 | Streaming | RIO DE JANEIRO, BRAZIL
2020 SPECTACLE IN EXILE | Streaming | NEW YORK CITY, USA
2020 ARSENAL 3 | Streaming | BERLIN, GERMANY
2020 DE MANO DADA (LIEBESSPIELE) | Regenbogen-Kino | BERLIN, GERMANY
2020 DIFFRAKTION #10 | Acud Macht Neu | BERLIN, GERMANY
2020 FILMMAKER'S CHOICE | Kino Arsenal | BERLIN, GERMANY
2020 DIRECTIONS SCREENING #2: FUTURE ARCHIVES | The Plymouth Athenaeum | PLYMOUTH, UK
2019-2020 DER TOD IST NUR EIN VORHANG | Studio im Hochhaus Videoraum| BERLIN, GERMANY
2019 ZWISCHEN | FMP1| BERLIN, GERMANY
2019 BLITZ #28: MUITO ROMÂNTICO | Zumzeig Cine Cooperativa| BARCELONA, SPAIN
2019 HAPPY MONDAY | L'Etna | PARIS, FRANCE
2019 TEXT ZEICHEN BILD – HISTORICAL VOYAGER | Galerie Nord | BERLIN, GERMANY
2019. ALTERNATIVE FILM / VIDEO | BELGRADE, SERBIA
2019 PERIPHERAL INTUITIONS | Night Embassy | BERLIN, GERMANY
2019 1666 | Galeria Olido / Cinemateca MAM | São Paulo / SÃO PAULO / RIO DE JANEIRO, BRAZIL
2019 COLOUR COLOURS WORKSHOP | Baltic Lab | RIGA, LATVIA
2019 LABORBERLIN SUMMER SCREENING | Zukunft am Ostkreuz | BERLIN, GERMANY
2019 FILM SANS PROJECTION | The Film Gallery | PARIS, FRANCE
2019 VIDEOEX | ZURICH, SWITZERLAND
2019 (DE)MYTHOLOGIZE: A BRIEF RETROSPECTIVE (solo exhibition) | D.O.C. | PARIS, FRANCE
2018 FOTOKINO + MUITO ROMÂNTICO | Instituto Moreira Salles | SÃO PAULO, BRAZIL
2018 VIA AÉREA | Sesc Belenzinho | SÃO PAULO, BRAZIL
2018 SUMMER SCREENING | LaborBerlin/PA 58 | BERLIN, GERMANY
2018 COLLECTIF JEUNE CINEMA | Cinéma Le Grand Action | PARIS, FRANCE
2018 PRIMAL UPROAR III | MS Stubnitz | HAMBURG, GERMANY
2018 SARAU MUNDI | Forum Brasil | BERLIN, GERMANY
2018 FRACTO – EXPERIMENTAL FILM ENCOUNTER | Acud | BERLIN, GERMANY
2018 MITTWOCHSVERANSTALTUNG | Film Arche | BERLIN, GERMANY
2018 FESTIVAL LUSO-BRASILEIRO DE SANTA MARIA DA FEIRA | PORTUGAL
2018 PROCESS FESTIVAL | RIGA, LATVIA
2018 FEIRA PLANA | SÃO PAULO, BRASIL
2018 DIFFRAKTION | Crclr | BERLIN, GERMANY
2018 SESSÃO CINEMÁTICA | Cic | FLORIANÓPOLIS, BRAZIL
2018 CINE CLEO | BRASÍLIA, BRAZIL
2017 TROPICÁLIA ONTEM COMO HOJE | Cinemateca Brasileira | SÃO PAULO, BRASIL
2017 PASSING THROUGH | JAKARTA, INDONESIA
2017 10. KAUNAS INTERNATIONAL FILM FESTIVAL | KAUNAS + VILNIUS + PANEVEZYS, LITHUANIA
2017 THE UNSEEN MOVIES FESTIVAL | ATHENS, GREECE
2017 PARKPLATZTREFFEN 4 | HAMBURG, GERMANY
2017 KÜNSTLERINNENPROGRAMM | BERLIN, GERMANY
2017 19. FESTIVAL KINOARTE DE CINEMA
2017 MOSTRA DO FILME LIVRE | BRAZILIAN FILM SPIRIT | Boston University
2017 NERVAL TEATRO | ARMUNIA, ITALY
2017 DISTRUKTUR @ WOLF | BERLIN, GERMANY
2017 BRASIL DISTÓPICO | Centro Cultural Banco do Brasil | RIO DE JANEIRO, BRASIL
2017 SUNDAY SCREENING | Zawya | CAIRO, EGYPT
2017 FILM AS A SENSITIVE BODY | Jesuit Center | ALEXANDRIA, EGYPT
2017 SUMMER ACADEMY | SALZBURG, AUSTRIA
2017 FRAMIN' | Cafuné project space | BERLIN
2017 UP TO THREE (w/ ensemble mosaik) | Acker Stadt Palast | BERLIN
2017 48 STUNDEN NEUKÖLLN | Cafuné project space | BERLIN
2017 SHE TALES | ausland | BERLIN
2017 SESSÃO VITRINE | Muito Romântico cinema release in various cities | BRAZIL
2017 BUSINESS AS USUAL (SUBMIT YOUR INVOICE) | Kreuzberg Pavillon | BERLIN
2017 THE NEW NORMAL | The Hangar – UMAM D&R | BEIRUT
2017 MOSTRA DO FILME LIVRE | RIO DE JANEIRO
2017 NOVÍSSIMO CINEMA BRASILEIRO | SÃO PAULO
2017 CINE-CLUB PERLA-MODE | ZURICH
2017 LA CASA ENCENDIDA | MADRID
2017 RETROSPECTIVA 2016 / EXPECTATIVA 2017 | Cinema do Dragão| FORTALEZA
2017 52. SOLOTHURNER FILMTAGE | Fokus: Art mon amour / Cinéma mon amour | SOLOTHURN
2017 BLICKLE ARCHIVE SERIES #16 | Blickle Kino im 21er Haus | VIENNA
2017 IN LOVE WITH FILM #1 | Filmkoop wien | VIENNA
2017 FRAMIN' | Cafuné project space | BERLIN
2017 UP TO THREE (w/ ensemble mosaik) | Acker Stadt Palast | BERLIN
2017 48 STUNDEN NEUKÖLLN | Cafuné project space | BERLIN
2017 SHE TALES | ausland | BERLIN
2017 SESSÃO VITRINE | Muito Romântico cinema release in various cities | BRAZIL
2017 BUSINESS AS USUAL (SUBMIT YOUR INVOICE) | Kreuzberg Pavillon | BERLIN
2017 THE NEW NORMAL | The Hangar – UMAM D&R | BEIRUT
2017 MOSTRA DO FILME LIVRE | RIO DE JANEIRO
2017 NOVÍSSIMO CINEMA BRASILEIRO | SÃO PAULO
2017 CINE-CLUB PERLA-MODE | ZURICH
2017 LA CASA ENCENDIDA | MADRID
2017 RETROSPECTIVA 2016 / EXPECTATIVA 2017 | Cinema do Dragão| FORTALEZA
2017 52. SOLOTHURNER FILMTAGE | Fokus: Art mon amour / Cinéma mon amour | SOLOTHURN
2017 BLICKLE ARCHIVE SERIES #16 | Blickle Kino im 21er Haus | VIENNA
2017 IN LOVE WITH FILM #1 | Filmkoop wien | VIENNA
2016 3. BERLIN ART FILM FESTIVAL | Kino Movimiento | BERLIN
2016 20° FESTIVAL DE CINEMA LUSO-BRASILEIRO | SANTA MARIA DA FEIRA
2016 PONREPO CINEMA | PRAGUE
2016 PAF – FESTIVAL OF FILM ANIMATION | Film Labor | OLOMOUC
2016 TRANSCINEMA FESTIVAL INTERNACIONAL DE CINE | Sección Radicalismos | LIMA
2016 8ª SEMANA DOS REALIZADORES | RIO DE JANEIRO
2016 34. TORINO FILM FESTIVAL | Onde/Waves | TURIN
2016 OCUPE CINE OLINDA | OLINDA
2016 THE LAST MACHINE | Filmmuseum | VIENNA
2016 CINE ESQUEMA NOVO 2016 | Arte Audiovisual Brasileira | PORTO ALEGRE
2016 IX JANELA INTERNACIONAL DE CINEMA DO RECIFE | Features Competition
2016 40ª MOSTRA INTERNACIONAL DE CINEMA EM SÃO PAULO | New Directors
2016 15th INTERNATIONAL KANSK VIDEO FESTIVAL | Premieres | MOSCOW
2016 5. ARTLOOP Festival | SOPOT
2016 PEOPLE'S CINEMA | Salzburger Kunstverein | SALZBURG
2016 HYBRID(…)SCAPES | Nida Art Colony | NIDA
2016 16. NOWE HORYZONTY/ IFF T-Mobile NEW HORIZONS | Films On Art Int. Competition | WROCLAU
2016 THE MIDNIGHT SHOW 4 | New Horizons + BWA Wroclaw | WROCLAU
2016 MIFF/ MELBOURNE INT. FILM FESTIVAL | International Panorama | MELBOURNE
2016 FILM AS A SENSITIVE BODY | 63. Int. Sommerakademie Für Bildende Kunst | SALZBURG
2016 DIALOGUE(S) | Galerie Fotohof | SALZBURG
2016 BAINS ARGENTIQUES | Open Screening | NANTES
2016 OPEN SCREENING | L'Abominable | PARIS
2016 ANALOGUE ZONE FINALE | Kino Arsenal | BERLIN
2016 NEW BUENOS AIRES | Corner College | ZÜRICH
2016 FILMESPERFORMANCE | Église Saint-Merry | PARIS
2016 DISTRUKTUR VISITS L'ETNA | L'Etna | PARIS
2016 EKSPERIMENTALA KINO VAKARS | Kino Bize | RIGA
2016 12 x12 IBB VIDEO SPACE | Berlinische Galerie | BERLIN
2016 KÜNSTLERINNENPROGRAMM | Berliner Senat für Kulturelle Angelegenheiten
2016 34. FESTIVAL CINEMATOGRÁFICO INT. DEL URUGUAY | Iberoamerican Features Competition | MONTEVIDEO
2016 66° BERLINALE | Forum Expanded | BERLIN
2016 FILM AIN'T DEAD #1 + #2 | Ausland / Spektrum | BERLIN
2016 DIFFRAKTION #6 | Silent Green Kulturquartier | BERLIN
2015 SET TO GO | Diverse Locations | VILNIUS / TALLINN / HELSINKI
2015 PHOTOPLAY SERIES N. 2 | Spektrum |BERLIN
2015 HERZ CINE-CLUB | BERLIN
2015 SALÃO TRANSARTES | Forum Brasil | BERLIN
2015 DOMINICAOS | Cine-Risco | SALVADOR
2015 FRENKEL DEFECTS | Diverse Locations | US Tour
2015 JONNY | insitu | BERLIN
2015 ABSCHIED | T27 | BERLIN
2015 VIDEOBRASIL | SÃO PAULO
2015 PERSPECTIVES – ON MOVING | Directors Lounge/ Z Bar | BERLIN
2015 (S8) MOSTRA DE CINEMA PERIFÉRICO | A CORUÑA
2015 FILMESPERFORMANCE | NK Projekt | BERLIN
2015 FILMMAKER'S CHOICE | Kino Arsenal | BERLIN
2015 FILMESPERFORMANCE | Academie Minerva Beeldende Kunst & Vormgeving | GRONINGEN
2015 ABHÖRORGIE | BKA Theater| BERLIN
2015 DIFFRAKTION 5 | Ehemaliges Stummfilmkino Delphi Berlin | BERLIN
2015 MOSTRA DE CINEMA DE TIRADENTES
2014 STÜCKWERK | Kunstraum T27 | BERLIN
2014 WILDE NACHT DES WILDEN FILMS | Ausland | BERLIN
2014 CINE ESQUEMA NOVO EXPANDIDO | Sala P.F. Gastal/ Santander Cultural | PORTO ALEGRE | Acquisition Prize TVE/RS for 'In the Traveler's Heart'
2014 VI SEMANA DOS REALIZADORES | RIO DE JANEIRO
2014 TRANSDUCTION | Berghain | BERLIN
2014 LABORBERLIN SUMMER SCREENING | Am Flutgraben | BERLIN
2014 COOKING YOUR LIFE | Widerstandsmuseum | BERLIN
2014 FESTCURTASBH | Materialidades | BELO HORIZONTE
2014 KANSK VIDEO FESTIVAL | International Competition | KANSK
2014 TRANSDUCTION | 47. Internationale Ferienkurse für Neue Musik | DARMSTADT
2014 LIVING ARCHIVE | Arsenal – Institut für Film und Videokunst e.V. | BERLIN
2014 MITOVIDEOS | Museu da Imagem e do Som | SÃO PAULO
2014 MOSCOW INTERNATIONAL FILM FESTIVAL | Cine Fantom | MOSCOW
2014 ANALOGUE ZONE #3 | Cimatheque | CAIRO
2014 WHERE DREAMS CROSS | Rygerfjord | STOCKHOLM
2014 WE ARE ANIMALS | Austellungsraum Bilingua | BERLIN
2014 9 LABS PART II | Filmwerkplaats | ROTTERDAM
2014 DUPLICATUM | Vesselroom Project / 15 Rue Keller | BERLIN / PARIS
2014 DIFFRAKTION 4 | Villa Neukölln | BERLIN
2014 DOUBLE PREMIERE | Ausland | BERLIN
2013 TORINO FILM FESTIVAL | Waves | TURIN
2013 17° FESTIVAL DE CINEMA LUSO-BRASILEIRO | SANTA MARIA DA FEIRA – Jury Honorable Mention – In the Traveler's Heart
2013 SEMANA DOS REALIZADORES | RIO DE JANEIRO
2013 VI JANELA INTERNACIONAL DE CINEMA DO RECIFE | RECIFE
2013 KÜNSTLERINNENPROGRAMM | Kino Arsenal | BERLIN
2013 SHORT FILMS & SLOW FOOD | Pontecarlo | BERLIN
2013 LA PANTALLA HÍBRIDA | Fundación Luis Seoane | A CORUÑA
2013 TAKING LIBERTIES | Exit | BERLIN
2013 CINEESQUEMANOVO EXPANDIDO | Santander Cultural / Galeria Ecarta | PORTO ALEGRE
2013 RITUAL ROOM | Contemporary Art Centre | VILNIUS
2013 ARTIST-IN-RESIDENCE PROGRAMME | Nida Art Colony | NIDA
2012 PERSPECTIVE MATTERS – TWO STAGED CONCERTS | Berghain | BERLIN
2012 LEERSTAND . 012 / 13 | Kitev | OBERHAUSEN
2012 TRUE TRUE NAME – MAD KATE'S PERFORMANCE SALON | Exit | BERLIN
2012 AVI KANAL – VIDEO, FILM ART & PERFORMANCE PLATFORM | August II | BERLIN
2012 KINO IM ZELT | Straßenfest Großgörchenstraße | BERLIN
2012 FILM SCREENING IN A GARTEN | Secret Location | BERLIN
2012 LABORBERLIN SOMMERFEST | Panke | BERLIN
2012 INTO THE CITY GRAN LUX | Tonkino Saalbau | VIENNA
2012 CORPO SENSÍVEL 2 WORKSHOP | Centro Integrado de Cultura | FLORIANÓPOLIS
2012 PERFORMA PAÇO | Paço das Artes | SÃO PAULO
2012 DIRECTORS LOUNGE | Naherholung Sternchen | BERLIN
2012 LABORBERLIN MEETS KINO LAB | Universidad Jorge Tadeo Lozano | BOGOTÁ
2012 DIFFRAKTION II | Stattbad Wedding | BERLIN
2011 FESTIVAL DE CINEMA LUSO-BRASILEIRO | SANTA MARIA DA FEIRA
2011 VANISHING POINT | Galeria Ecarta | PORTO ALEGRE
2011 IV JANELA INTERNACIONAL DE CINEMA DO RECIFE | Best Film in International Competition – Cat Effekt
2011 CORPO SENSÍVEL | Janela Internacional de Cinema | RECIFE
2011 CURTA GALERIA | Caixa Cultural | RIO DE JANEIRO
2011 CURTA CINEMA | RIO DE JANEIRO
2011 COMA – Conexões Exploratórias em Arte e Música Híbrida | BELO HORIZONTE
2011 IMAGE BLOCKS | Panke | BERLIN
2011 CAT EFFEKT: BERLIN PREMIERE | Kino Moviemento | BERLIN
2011 KAUNAS INTERNATIONAL FILM FESTIVAL
2011 VILNIUS FILM SHORTS
2011 HANDS OVER CINEMA | Goethe Institut | ATHENS
2011 OPTICA FESTIVAL DE VIDEOARTE | Casa Encendida | MADRID
2011 KÜNSTLERINNENPROGRAMM | Berliner Senat für Kulturelle Angelegenheiten
2011 INTRICATE MACHINES | Mica Moca Project Space | BERLIN
2011 22º FESTIVAL INTERNACIONAL DE CURTAS DE SÃO PAULO
2011 TUDO È Guest Nation Brazil | Ex-Esattoria | FLORENCE
2011 MOSCOW INTERNATIONAL FILM FESTIVAL
2011 BAFICI – BUENOS AIRES FESTIVAL INTERNACIONAL DE CINE INDEPENDIENTE
2011 29° INTERNATIONAL FILM FESTIVAL OF URUGUAY | MONTEVIDEO
2011 CINEESQUEMANOVO | PORTO ALEGRE
2011 MOSTRA COLETIVO AVALANCHE | Casa M | PORTO ALEGRE
2011 DIFFRAKTION | Stattbad Wedding | BERLIN
2011 GALERIE IM REGIERUNGSVIERTEL | Remix 9 | BERLIN
2010 GALERIE IM REGIERUNGSVIERTEL | BERLIN
2010 FESTIVAL DE CINEMA LUSO-BRASILEIRO | SANTA MARIA DA FEIRA
2010 CONSTRUCTING VIEWS: EXPERIMENTAL FILM AND VIDEO FROM BRAZIL | New Museum | NEW YORK
2010 MOSCOW INTERNATIONAL FILM FESTIVAL | CINE FANTOM ALTERNATIVA | MOSCOW
2010 DISTRUKTUR NA ILHA | Cine Pitangueira | FLORIANÓPOLIS
2010 NARRATIVAS À DERIVA | Mostravídeo Itaú Cultural | CURITIBA
2010 DISTRUKTUR NO RECIFE | Cinema da Fundação | RECIFE
2010 BRAZILIAN EXPERIMENTAL CINEMA | Cine Fantom | MOSCOW
2010 STEP BEYOND MOBILITY FUND | EUROPEAN CULTURAL FOUNDATION
2009 KINO FESTIVALIS 8MM | VILNIUS
2009 TORINO FILM FESTIVAL | Waves | TURIN
2009 AURORA – COMMON GROUND | Mythic Encounters | NORWICH
2009 CURTACINEMA | RIO DE JANEIRO
2009 JANELA INTERNACIONAL DE CINEMA | RECIFE
2009 CINEESQUEMANOVO | PORTO ALEGRE
2009 FESTIVAL INTERNACIONAL DE CURTAS DE BH | BELO HORIZONTE
2009 FORUM EXPANDED | BERLINALE | BERLIN
2009 VÍDEOARTE NOS JARDINS DO DMAE | PORTO ALEGRE
2008 FEST. DE CINEMA LUSO-BRASILEIRO | Somos Todos Filhos da Terra | SANTA MARIA DA FEIRA | Audience Award – Triangulum
2008 SELECT ON TOUR: Reflections | Tape, BERLIN/ Felsenkeller, LEIPZIG/ Fabrik, HAMBURG/ Welterbe Zollverein, ESSEN/ Kölnmesse, KÖLN
2008 SUN SCREENINGS | Kino Arsenal | BERLIN
2008 ÜBERGEFAHREN | Kunstraum T27 | BERLIN
2007 KUNSTSALON D21 | Kunstraum D21 | LEIPZIG
2007 FEST. DE CINEMA LUSO-BRASILEIRO | SANTA MARIA DA FEIRA | Best Film in Somos Todos Filhos da Terra – Éternau