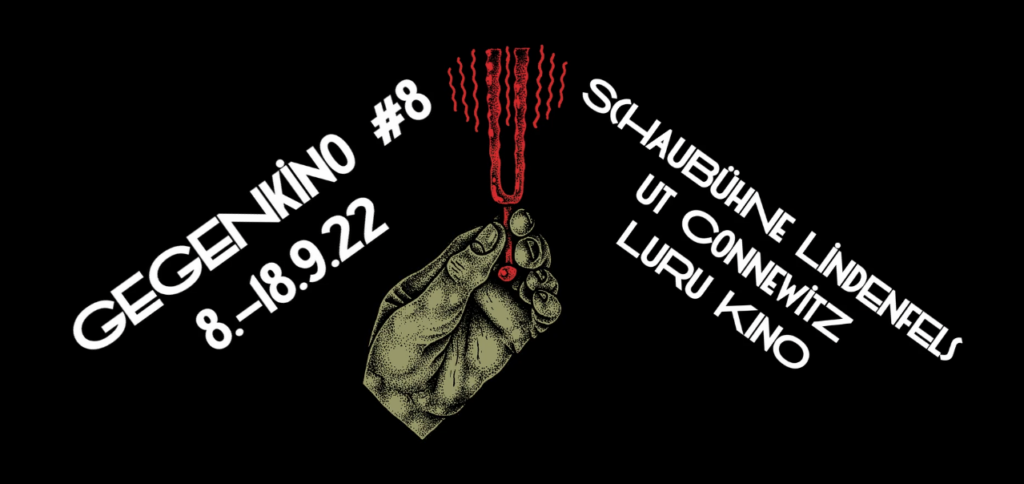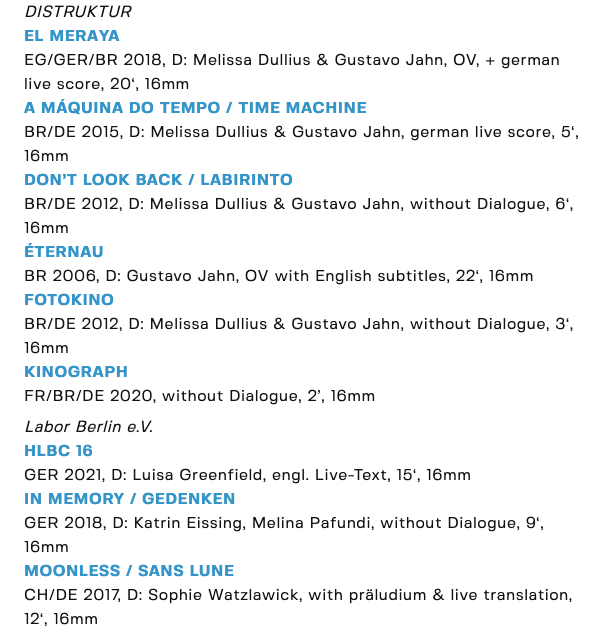 SUNDAY, SEPTEMBER 11, 2022 AT 9 PM
Distruktur & LaborBerlin e.V.
Distruktur & LaborBerlin e.V.
Das seit 2006 in Berlin lebende brasilianische Film-Duo Melissa Dullius und Gustavo Jahn arbeitet als DISTRUKTUR seit gut zwei Jahrzehnten an einem Film-Corpus, der sich den experimentellen Formsprachen analogen Materials, vor allem 16mm, verschrieben hat. Ihre enigmatischen Werke erkunden mit einem spielerischen Symbolismus die Underground-Szene der deutschen Hauptstadt ebenso wie die verwinkelten Gassen Kairos und spiegeln dabei nicht nur Erfahrungen des Diasporischen wider, sondern beschreiben auch Film als Terrain der Synthese verschiedener künstlerischer Einflüsse wie Musik, Tanz, Bühnenbild oder Perfomancekunst. Dullius und Jahn sind Gründungsmitglieder des LABORBERLIN e.V., der sich als unabhängige Gruppe der Autodidaktik und dem DIY-Charakter rund um analoges Filmmaterial verschrieben hat. In dessen Räumlichkeiten können Mitglieder Filme entwickeln, schneiden, umkopieren. Zudem bietet das Labor Workshops für interessierte Außenstehende an, die sich sowohl chemischen und physikalischen als auch ästhetischen und philosophischen Fragen annehmen und als eine Form des außerakademischen, horizontalen Wissenstransfers funktionieren.
Im Anschluss an sechs Kurzfilme von DISTRUKTUR, die Melissa Dullius selbst projizieren wird, zwei davon mit Live-Vertonung, zeigen wir eine Auswahl von Arbeiten des Labor-Kollektivs aus einem Open Call. Zu Beginn läuft GEDENKEN, ein filmisches Stück Erinnerungsarbeit, für das die Künstlerinnen Katrin Eissing und Melina Pafundi Titel und Materialreste von KALMENHOFKINDER – ERMORDET UND VERGESSEN von Nikolaus Tscheschner bearbeiten, die sie im Labor zuvor fanden. Danach reflektiert HLBC 16 über die Sequenz einer Autofahrt durch Rom und seine Vororte in Danièle Huillets und Jean-Marie Straubs Film HISTORY LESSONS von 1972. Dazu verleiht Luisa Greenfield mit einem begleitenden Text ihren Gedanken live eine Stimme. Zu guter Letzt eröffnet MOONLESS von Sophie Watzlawick mit einem Präludium aus Stimmen und Geräuschen in völligem Black, bis dann entrückende (Negativ-)Bilder in eine mysteriöse, mondlose Welt entführen.
In Anwesenheit der Filmemachenden
11. September, 19 Uhr
UT Connewitz
€ 6,5 (5,5 erm.)
*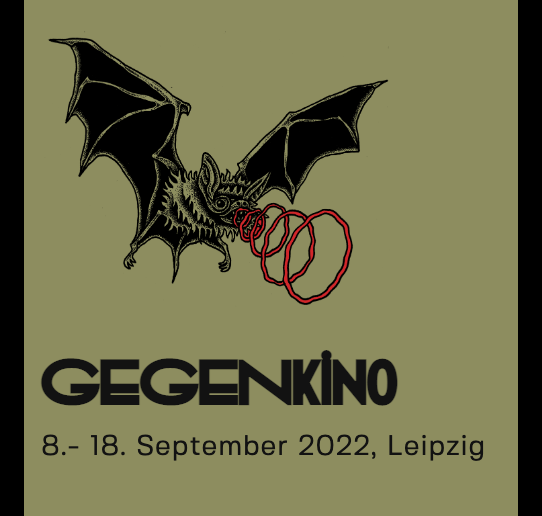 *
(English)
Living in Berlin since 2006, Brazilian film duo Melissa Dullius and Gustavo Jahn has been working as DISTRUKTUR on a cinematic corpus that is committed to forms of experimental language of analogue material, most notably 16mm. With a playful symbolism, their enigmatic works explore the underground scene of the German capital likewise to the winding alleys of Cairo and reflect not only the experience of diaspora but also describe film as a terrain of synthesis of diverse artistic influences like music, dance, stage design or performance art. Dullius and Jahn are founding members of independent LABOR BERLIN film collective, which has dedicated itself to ethics of autodidactic and DIY work all around analogue film material. In their working spaces, members can develop, cut and copy films. In addition, LABOR BERLIN offers workshops for interested people that deal with both chemical and physical and philosophical questions and function as a form of horizontal transfer of knowledge beyond academia.
Following six short films of DISTRUKTUR that Melissa Dullius will project herself, we will show a range of works from the Labor collective selected after an open call. At the beginning, GEDENKEN will be shown, a cinematic piece of memory work, for which the artists Katrin Eissig and Melina Pafundi have worked with titles and material remains of Nikolaus Tschechner's KALMENHOFKINDER – ERMORDET UND VERGESSEN that they found at the Labor. Afterwards, HLBC 16 reflects on a sequence of a car drive through Rome and its suburbs in Danièle Huillet's and Jean-Marie Straub's film HISTORY LESSONS from 1972. For this purpose, Luisa Greenfield expresses her thoughts with a simultaneous live reading of an accompanying text. Last but not least, MOONLESS by Sophie Watzlawick opens with a prelude of voices and sounds in a total black, until other-worldly (negative) images lead us into a mysterious, moonless world.
In the presence of the filmmakers
11 September, 7 pm
UT Connewitz
€ 6,5 (5,5 red.)
DISTRUKTUR
EL MERAYA
EG/DE/BR 2018, R: Melissa Dullius & Gustavo Jahn, OV, + dt. Live-Vertonung, 20′, 16mm
A MÁQUINA DO TEMPO (TIME MACHINE)
BR/DE 2015, R: Melissa Dullius & Gustavo Jahn, dt. Live-Vertonung, 5′, 16mm
DON'T LOOK BACK / LABIRINTO
BR/DE 2012, R: Melissa Dullius & Gustavo Jahn, ohne Dialog, 6′, 16mm
ÉTERNAU
BR 2006, R: Gustavo Jahn, OmeU, 22′, 16mm
FOTOKINO
BR/DE 2012, R: Melissa Dullius & Gustavo Jahn, ohne Dialog, 3′, 16mm
KINOGRAPH
FR/BR/DE 2020, ohne Dialog, 2', 16mm
LABOR BERLIN
IN MEMORY (GEDENKEN)
DE 2018, R: Katrin Eissing, Melina Pafundi, ohne Dialog, 9′, 16mm
HLBC 16
DE 2021, R: Luisa Greenfield, engl. Live-Text, 15′, 16mm
MOONLESS (SANS LUNE)
CH/DE 2017, R: Sophie Watzlawick, mit Präludium & Live-Übersetzung, 12′, 16mm